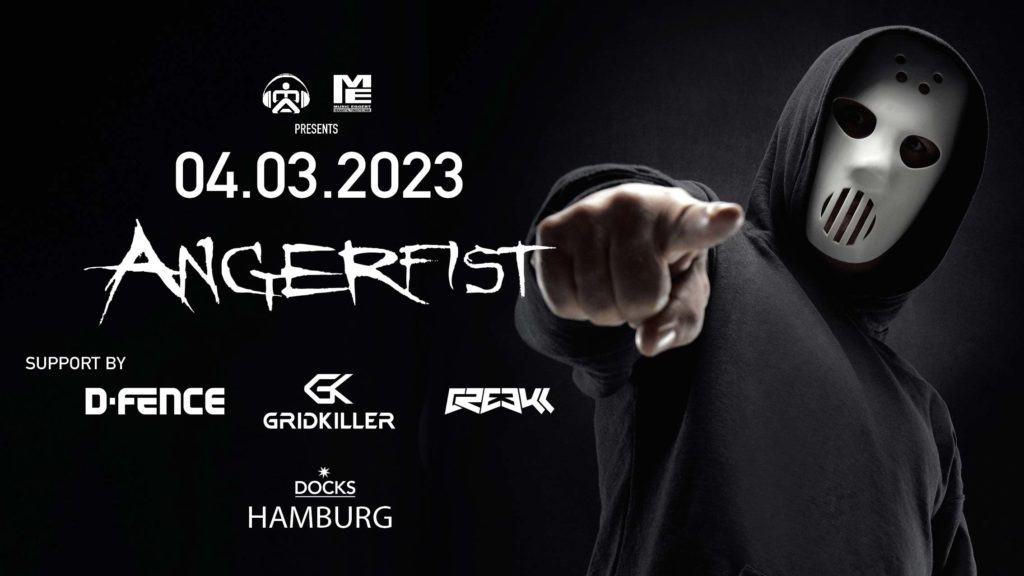 Angerfist im Hamburger Docks
Wir bringen euch Angerfist ins Docks nach Hamburg! Anfang März des nächsten Jahres ist es schon soweit und der niederländische Hardcore-Musiker und DJ kommt zu einer Headline-Show nach Deutschland. Am 04.03.2023 wird Angerfist das Docks in Hamburg mit Hardcore-Beats erschüttern. Als Support mit dabei sind D-Fence, Gridkiller und Creek. Die Show beginnt um 23:00 Uhr.
Angerfist zählt zu den Pionieren des Hardcore und ist bekannt für seine Maske, die er bei seinen Auftritten trägt. 2006 veröffentlichte er sein erstes Album. Darauf folgten bis heute noch 6 weitere erfolgreiche Alben. Mit diesen Veröffentlichungen hat er bereits drei Jahre in Folge die höchste Platzierung für Hard-Dance-Künstler erreicht. Im Jahr 2021 war er sogar der höchstplatzierte Hard-Dance-Künstler in den DJ Mag Top 100. Seine Auftritte sind geprägt von seiner dynamischen, kraftvollen Art und einer außergewöhnlichen Atmosphäre. Wenn ihr Angerfists Hardcore Bässe live erleben wollt, habt ihr bei seiner Headline-Show im März 2023 nun die Möglichkeit.
Tickets gibt es ab dem 23.11.2022, 18 Uhr im Vorverkauf. Sichert euch euer Ticket, um diese Show nicht zu verpassen!
Angerfist at the Docks in Hamburg
We bring you Angerfist to the Docks in Hamburg! At the beginning of March next year it's already time and the Dutch hardcore musician and DJ comes to Germany for a headline show. On 04.03.2023 Angerfist will shake the Docks in Hamburg with hardcore beats. Supporting him will be D-Fence, Gridkiller and Creek. The show starts at 11:00 pm.
Angerfist is one of the pioneers of hardcore and is known for the mask he wears at his gigs. In 2006 he released his first album. This was followed by 6 other successful albums to this day. With these releases, he has already reached the highest ranking for hard dance artists three years in a row. In 2021 he was even the highest ranked hard dance artist in the DJ Mag Top 100. His performances are characterized by his dynamic, powerful style and an extraordinary atmosphere. If you want to experience Angerfist's hardcore bass live, you now have the chance at his headline show in March 2023.
Tickets will be on pre-sale from 23.11.2022, 6 pm. Get your ticket so you don't miss this show!