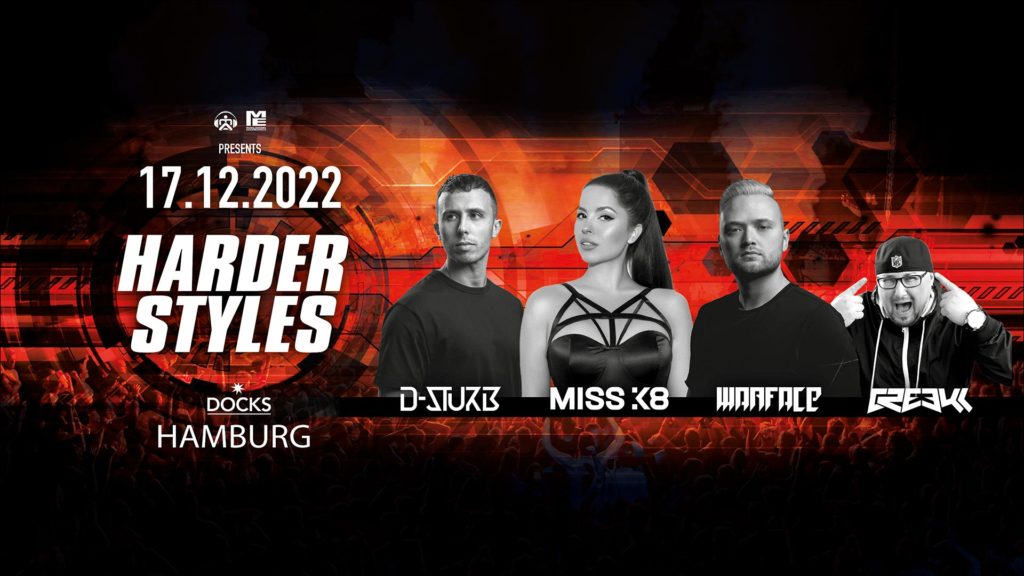 Harder Styles im Hamburger Docks
Wir bringen euch unser Event Harder Styles ins Docks nach Hamburg! Mitte Dezember ist es schon soweit und Fans der härteren Klänge kommen auf ihre Kosten. Am 17. Dezember 2022 werden D-Sturb, Miss K8 und Warface das Docks in Hamburg mit ihren Bässen zum Beben bringen. Als Support ist Creek mit dabei. Die Show beginnt um 23:00 Uhr.
D-Sturb ist ein niederländischer Hardstyle-DJ und Musikproduzent. Bereits vor mehr als 10 Jahren entdeckte er die elektronische Musikproduktion für sich und blieb ihr bis heute treu. Er fokussierte sich auf das Genre Hardstyle und wurde zum festen Bestandteil dieser Szene.
Ebenfalls bei Harder Styles mit dabei ist Miss K8. Die ukrainische Hardcore-Techno-DJ und Musikproduzentin gehört zu den bekanntesten Vertretern des Genres. Sie veröffentlichte ihren ersten Track im Jahr 2011 und ist mit ihrer Musik weltweit auf Festivals unterwegs.
Außerdem könnt ihr euch auf Warface freuen. Der niederländische Raw Hardstyle-DJ und Produzent wird euch ebenfalls seine Musik im Hamburger Docks präsentieren. Er schaffte es mit seinen Musikkreationen von der Underground-Szene bis hin zu den Mainstages.
Tickets gibt es ab dem 09.11.2022, 18 Uhr im Vorverkauf. Sichert euch euer Ticket, um diese Show nicht zu verpassen!
---
Harder Styles at the Docks in Hamburg
We bring you our event Harder Styles to the Docks in Hamburg! In the middle of December, it's already time and fans of harder sounds will find what they're looking for. On 17 December 2022, D-Sturb, Miss K8 and Warface will make the Docks in Hamburg shake with their basses. Creek will be there as support. The show starts at 11 pm.
D-Sturb is a Dutch hardstyle DJ and music producer. He discovered electronic music production more than 10 years ago and has remained true to it until today. He focused on the genre of hardstyle and became an integral part of this scene.
Miss K8 is also part of Harder Styles. The Ukrainian hardcore techno DJ and music producer is one of the best-known representatives of the genre. She released her first track in 2011 and is on the road with her music at festivals all over the world.
You can also look forward to Warface. The Dutch raw hardstyle DJ and producer will also present his music at the Docks in Hamburg. He made it with his music creations from the underground scene to the mainstages.
Tickets are available from 09.11.2022, 6 pm in pre-sale. Make sure you get your ticket so you don't miss this show!