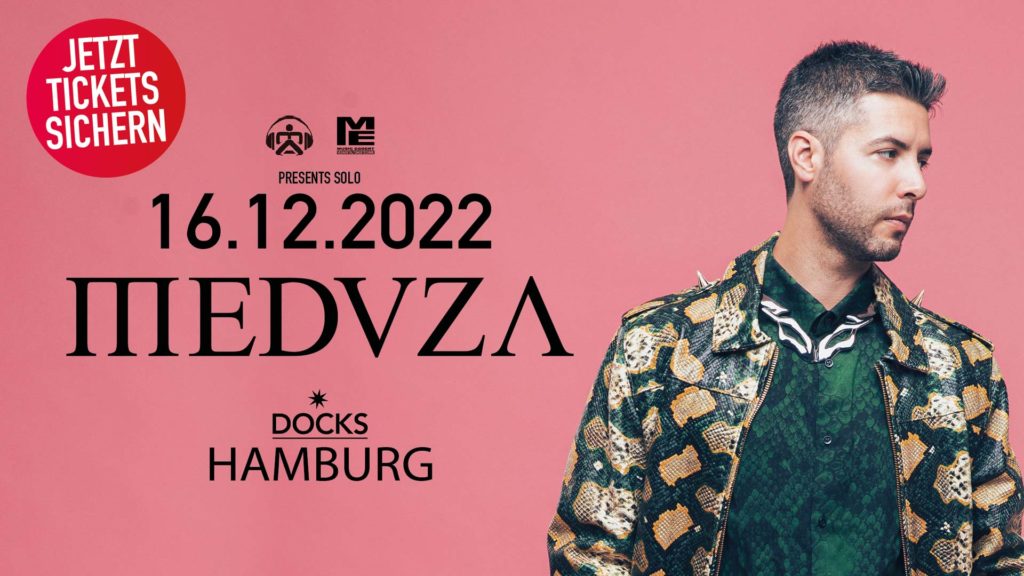 Meduza im Hamburger Docks
Wir bringen euch Meduza ins Docks nach Hamburg! Mitte Dezember ist es schon soweit und das italienische EDM-Trio kommt zu einer Headlineshow nach Deutschland. Am 16. Dezember 2022 werden euch Meduza im Docks in Hamburg zum Tanzen bringen. Die Show beginnt um 23:00 Uhr.
Das Trio, bestehend aus Luca De Gregorio, Simone Giani und Mattia Vitale, erlangte 2019 weltweite Bekanntheit mit der Veröffentlichung ihrer Single Piece Of Your Heart. Daraufhin produzierten sie weitere Hits wie Loose Control, Paradise und Tell It To My Heart. Sie können bereits auf einige Chartplatzierungen, eine Grammy Nominierung und den Gewinn einiger Awards zurückblicken. Beeindruckend ist auch, dass sie innerhalb von zwei Jahren zum weltweit meistgestreamten italienischen Künstler in der Musikgeschichte wurden. Ihr charakteristischer Sound und ihre Energie verhalfen ihnen dazu, die Rückkehr der House-Musik ins Radio weltweit voranzutreiben. Sie spielten bereits viele Headlineshows auf den Mainstages der größten Festivals weltweit. 2022 stand unter anderem eine Tour durch Nord- und Südamerika an. Im Dezember kommen sie dann nach Hamburg und ihr habt die Möglichkeit sie live zu erleben.
Tickets gibt es ab dem 27.10.2022, 18 Uhr im Vorverkauf. Sichert euch euer Ticket, um diese Show nicht zu verpassen!
---
Meduza at the Docks in Hamburg
We bring you Meduza to the Docks in Hamburg! In the middle of December it's already time and the Italian EDM trio comes to Germany for a headline show. On the 16th of December 2022 Meduza will make you dance at the Docks in Hamburg. The show starts at 11:00 pm.
The trio, consisting of Luca De Gregorio, Simone Giani and Mattia Vitale, gained worldwide fame in 2019 with the release of their single Piece Of Your Heart. Following that, they produced other hits such as Loose Control, Paradiseand Tell It To My Heart. They already have a number of chart placements, a Grammy nomination and have won a couple awards. It is also impressive that within two years they became the most streamed Italian artist in music history worldwide. Their characteristic sound and energy helped them to drive the return of house music to radio worldwide. They have played many headline shows on the mainstages of the biggest festivals around the world, including a tour of North and South America in 2022. In December they come to Hamburg and you have the opportunity to experience them live.
Tickets are available from 27.10.2022, 6 pm in pre-sale. Make sure you get your ticket so you don't miss this show!