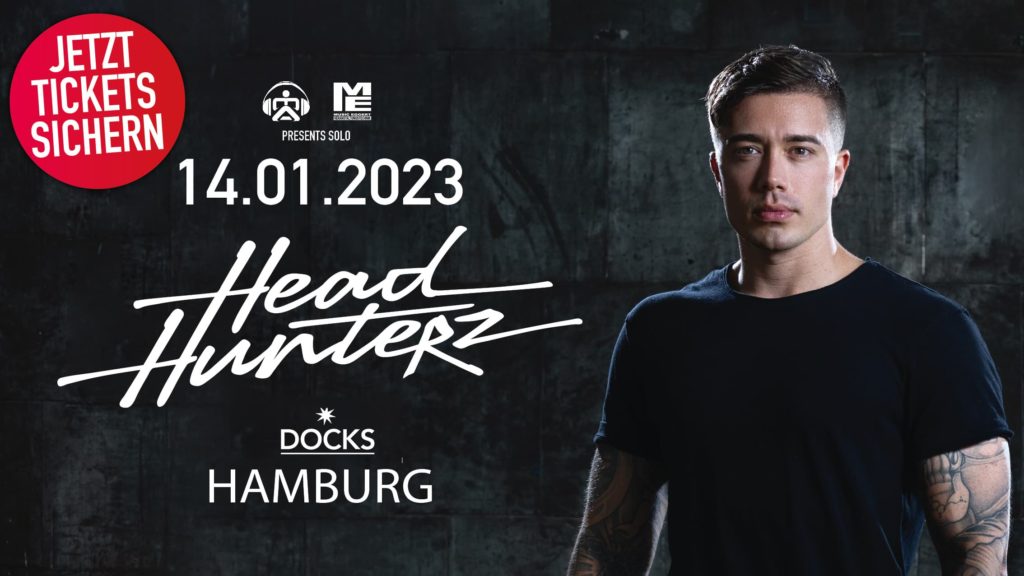 Headhunterz im Hamburger Docks
Wir bringen euch Headhunterz ins Docks nach Hamburg! Anfang des nächsten Jahres ist es schon soweit und der niederländische DJ-Star und Top 100 Member kommt endlich zu seiner ersten Headline-Show nach Deutschland. Am 14. Januar 2023 bringt Headhunterz das Docks in Hamburg zum Beben. Als Support mit dabei sind Final Day, Aftershock und Creek. Die Show beginnt um 23:00 Uhr.
Willem Rebergen, besser bekannt als Headhunterz, startete seine DJ-Karriere vor über einem Jahrzehnt. Er nahm sich zum Ziel der beste Produzent dieses Genres zu werden und ließ dieses zu einem internationalen Phänomen heranwachsen. Headhunterz machte Hardstyle trotz seiner brachialen Sounds salonfähig und führte ihn zu neuen Höhen. Seine melodische und energiegeladene Herangehensweise ist dabei einzigartig. Zudem definierte er den Hardstyle-Sound der späten 2000er neu und ging musikalisch auch über dessen Grenzen hinaus. Er erkundete zwischen 2014-2017 weitere Bereiche der elektronischen Tanzszene, bevor er sich erfolgreich ab 2017 wieder dem Hardstyle-Genre widmete. Bei seinem Auftritt in Hamburg habt ihr nun die Möglichkeit ihn live zu erleben.
Tickets gibt es ab dem 17.10.2022, 18 Uhr im Vorverkauf. Sichert euch euer Ticket, um diese Show nicht zu verpassen!
—————————
Headhunterz at the Docks in Hamburg
We bring you Headhunterz to Hamburg's Docks! Early next year, the Dutch DJ star and Top 100 Member is finally coming to Germany for his first headline show. On 14 January 2023 Headhunterz will make the Docks in Hamburg shake. Support will be Final Day, Aftershock and Creek. The show starts at 11 pm.
Willem Rebergen, better known as Headhunterz, started his DJ career over a decade ago. His goal was to become the best producer of the genre and he made it grow into an international phenomenon. Headhunterz made hardstyle presentable despite its brute sounds and took it to new heights. His melodic and energetic approach is unique. He also redefined the hardstyle sound of the late 2000s and went musically beyond its boundaries as well. He explored other areas of the electronic dance scene between 2014-2017 before successfully returning to the hardstyle genre from 2017. At his show in Hamburg you now have the opportunity to experience him live.
Tickets are available from 17.10.2022, 6 pm in pre-sale. Make sure you get your ticket so you don't miss this show!