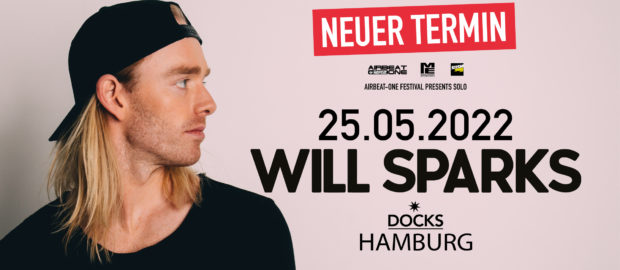 Will Sparks kommt am 25. 05 2022 nach Hamburg
Wir holen keinen Geringeren als Will Sparks in die Hamburger Docks! Die Show wurde auf den 25.05.2022 verschoben. Dann wird euch der Superstar aus Australien so richtig einheizen. Weitere Support-Acts werden wir noch bekannt geben. Eure Tickets bleiben für den neuen Termin gültig. Damit unterstützt ihr uns nicht nur in dieser immer noch schwierigen Zeit, sondern müsst euch auch nicht um neue Tickets kümmern. Ihr könnt dadurch zum gleichbleibenden Preis feiern und braucht euch keine Sorgen zu machen, neue Tickets zu einem höheren Preis kaufen zu müssen. Alle Infos bekommt ihr auch nochmal von uns und eurem jeweiligen Ticketanbieter per Mail.
We bring you none other than Will Sparks to the Docks in Hamburg! The show has been postponed to 25.05.2022. Then the superstar from Australia will put on a show you will never forget. Further support acts will be announced later. Your tickets remain valid for the new date. So you don't only support us in this still difficult time, but also don't have to worry about new tickets. You can party for the same price and don't have to worry about buying new tickets at a higher price. You will get all information from us as well as your ticket provider by mail.