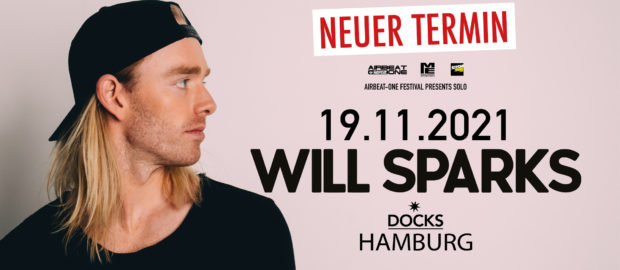 Will Sparks kommt am 19. November 2021 nach Hamburg
Wir holen niemand Geringeren als Will Sparks in die Hamburger Docks! Statt wie geplant am 28.05.2021 werden wir ihn euch am 19.11.2021 auf der Reeperbahn in Hamburg präsentieren. Aufgrund der derzeitigen Lage durch Covid-19 ist es uns leider nicht möglich, bereits im Mai dort mit euch zu feiern.
Eure Tickets bleiben für den neuen Termin gültig. Damit unterstützt ihr uns nicht nur in dieser schwierigen Zeit, sondern müsst euch auch nicht um neue Tickets kümmern. Ihr könnt dadurch zum gleichbleibenden Preis feiern und braucht euch keine Sorgen zu machen, neue Tickets zu einem höheren Preis kaufen zu müssen.
Solltet ihr am neuen Termin keine Zeit haben, gibt es für euch die Möglichkeit eure Tickets in einen Gutschein umzuwandeln oder eine Erstattung zu beantragen. Sowohl die Gutscheinlösung, als auch die Erstattungsoption läuft über euren jeweiligen Ticketanbieter. Bitte achtet darauf, wer euer Ticketanbieter ist und welche nachfolgenden Infos dementsprechend für euch gelten.
Für SeeTickets (ehem. Paylogic)-Kunden:
Wenn ihr eure Tickets bei SeeTickets (ehemals Paylogic) gekauft habt, könnt ihr über deren Refund Tool angeben, ob ihr einen Gutschein oder eine Erstattung möchtet. Wenn ihr euer Ticket behalten möchtet, müsst ihr das Tool nicht verwenden. Die Tickets sind dann automatisch für den neuen Termin gültig.
Ihr habt bis zum 27.05.2021 Zeit, um eine Umwandlung in einen Gutschein oder eine Erstattung über das Refund Tool anzufragen. Nachdem die Deadline abgelaufen ist, werden die Gutscheine an euch verschickt und die Erstattungen gesammelt ausgeführt. Das Geld wird innerhalb von 4 Wochen auf dem bei der Bestellung von euch verwendeten Zahlungsmittel gutgeschrieben.
Zum Gutschein-/Erstattungs-Tool
Für Festicket-Kunden:
Auch bei Festicket habt ihr die Möglichkeit entweder euer Ticket für den neuen Termin zu behalten oder dieses in einen Gutschein umzuwandeln. Alternativ ist auch hier eine Erstattung möglich. Das Formular für die Gutscheinlösung und die Erstattung wird euch in Kürze von Festicket per Mail zugesandt. In dieser Mail sind auch noch einmal eure Möglichkeiten aufgeführt. Bitte beachtet, dass ihr bis zum 27.05.2021 euren Gutschein oder eine Erstattung beantragt haben müsst.
Für Eventim-Kunden:
Solltet ihr eure Tickets bei Eventim bestellt haben, so beantragt sowohl für die Gutscheinalternative als auch für gewünschte Erstattungsanfragen bitte zuerst über folgenden Link einen Gutschein für euer Ticket:
Entweder ihr behaltet dann diesen Gutschein oder wendet euch für Erstattungsanfragen im Anschluss mit dem Gutscheincode sowie dem Namen der Veranstaltung, dem Kaufdatum der Tickets und euren Kontodaten an uns über [email protected]. Wir entwerten dann den Gutschein für euch und überweisen euch das Geld auf euer angegebenes Konto. Für die Erstattungsanfrage bei uns habt ihr ebenfalls bis zum 27.05.2021 Zeit. Wenn ihr euer Ticket für den neuen Termin behalten möchtet, müsst ihr selbstverständlich keinen Gutschein beantragen.
Nach wie vor halten wir jedoch an unserem Plan fest, das AIRBEAT ONE Festival diesen Sommer stattfinden zu lassen. Wir hoffen sehr, dass wir uns wenigstens dort wiedersehen. Bis dahin haltet euch an die geltenden Sicherheitsmaßnahmen und passt auf euch und andere auf!
Will Sparks is coming to Hamburg on 19 November 2021
We're bringing no one less than Will Sparks to the Hamburg docks! Instead of as planned on 28.05.2021 we will present him to you on 19.11.2021 at the Reeperbahn in Hamburg. Due to the current situation of Covid-19, it is unfortunately not possible for us to party with you there already in May.
Your tickets will remain valid for the new date. Not only do you support us in these difficult times, but you also don't have to worry about new tickets. You can celebrate at the same price and don't have to worry about buying new tickets at a possibly higher price.
If you don't have time at the new date, you can convert your tickets into a voucher or request a refund. Both the voucher solution and the refund option run through your respective ticket provider. Please pay attention to who your ticket provider is and which information below applies to you accordingly.
For SeeTickets (formerly Paylogic) customers:
If you bought your tickets at SeeTickets (formerly Paylogic), you can use their Refund Tool to indicate whether you want a voucher or a refund. If you want to keep your ticket, you don't have to use the tool. Tickets are then automatically valid for the new date.
You have time until 26.05.2021 to request a conversion into a voucher or a refund via the voucher and refund tool. After the deadline has expired, the vouchers will be sent to you and the refunds collected. The money will be credited within 4 weeks to the payment method used by you when ordering.
For Festicket customers:
Also as a Festicket customer you have the option to either keep your ticket for the new date or convert it into a voucher. Alternatively, a refund is also possible. The voucher redemption and refund form will be sent to you shortly by email from Festicket. This mail also lists your options. Please note that you must have applied for your voucher or a refund by 26.05.2021.
For Eventim customers:
If you have ordered your tickets from Eventim, please first apply for a voucher for your ticket both for the voucher alternative and for any refund request via the link below. You can either keep the voucher or contact us at [email protected] for refund requests following the voucher code as well as the name of the event, the date of purchase of the tickets and your account details. We will then validate the voucher for you and transfer the money to your specified account. You also have time until 26.05.2021 for the refund request with us. If you want to keep your ticket for the new date, you do not need to apply for a voucher.
However, we are still sticking to our plan to host the AIRBEAT ONE Festival this summer. We very much hope that we will at least see each other there again. Until then, stick to the security measures and take care of yourself and others!